Mora Public Schools students, all the way from kindergarten through high school, are getting a boost in agriculture education both in hands-on experiences on the farm to virtual tours of coffee factories in the Congo. 
Beyond Cows, Plows and Sows
Mora High School agriculture instructor and Future Farmers of America advisor Jennifer McCauley said she actively works to break the stigma of agriculture classes being the "farm kid" classes. McCauley said modern agriculture is a lot more than that. 
"Parts of agriculture is still the idea of the hands-on, put it in the ground and watch it grow— but the biotechnology and science of agriculture is really taking off. 
"We need to show the students that engineering of metals and foods can be in the same realm. It is not just about cows, plows and sows anymore. We have so many new technologies that are not only computer-based but science related; students don't understand the full connections yet."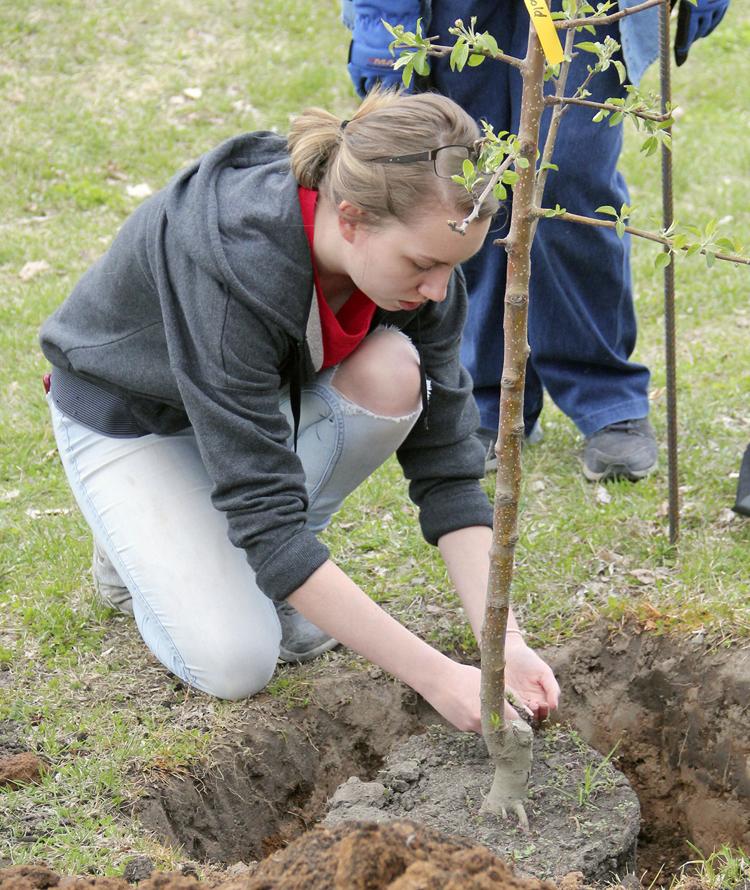 To help build the connections between agriculture, science and technology, McCauley advocated to add virtual and augmented reality viewers, devices, charging station and cart to the agriculture department. Mora High School was notified in May that it is a winner in the CenturyLink 2018-19 Teachers and Technology Grant Program, which recognizes innovative science, technology, engineering and mathematics projects in the classroom. This grant will enable MHS to purchase the virtual and augmented reality viewers.
"With the agriculture courses offered at Mora High School we have so many aspects that we would like to cover and get students into the real world life of it but there is no way to physically get to these places," McCauley said. 
With Google Expeditions ( an education-based virtual reality application) students are able to explore agriculture around the world from their classroom. Students can experience touring coffee factories in Congo; explore the ecosystems of the ocean and even see in-depth the pollination of a plant.
Agriculture classes are also hands on. This spring, McCauley's students helped third and fifth graders plant a raspberry patch and apple trees at Mora Elementary School. 
"We are showing students the connection of where our food comes from by making bread from scratch, to getting our hands dirty and planting 400 trees to help the environment, touring our local flower shops and Northland Automation and Engineering. That is all part of agriculture ... right here, local in our community."
Mora Elementary School is now in it's fourth year of collaboration with the University of Minnesota Kanabec County Master Gardeners to create "Gardening is Science" programming for third and fifth graders. 
The Gardening is Science programming began with discussions between Mora schools and Master Gardeners about how the Master Gardeners could provide additional opportunities for the students related to science. The Master Gardener's received a Mora Education Foundation grant for $7,500 over the next few years.
One project was to create raised beds for each fifth grade class. Every year, each class plans, designs, grows plants from seeds, transplants and then ultimately plants their garden in their bed. Recovering Hope clients and Master Gardeners ensure that the beds are watered, weeded and harvested through out the summer months. Any harvest is given to the food shelf or to Recovering Hope clients. Fifth grade students throughout the summer are allowed to come to the garden and water, weed  and harvest also.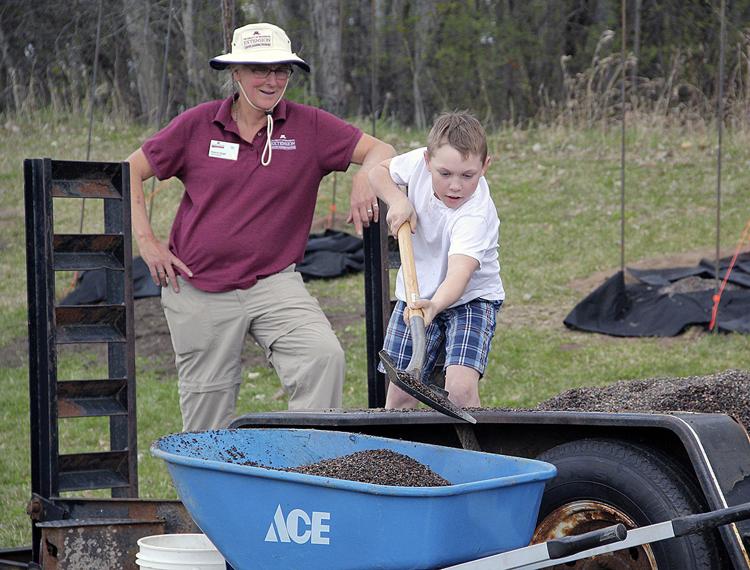 On June 4, fifth and third grade classes toured the Mora Community Gardens. Students had a "Veggie Tasting Party" where they learned about "eating the rainbow" and the parts of a plant we eat. Classes sampled raw vegetables like beets, peppers, kale, rhubarb and more. 
A special project for the third grade classes this year was to plant apple trees, raspberry bushes and a bulb garden. The apple trees and raspberry bushes were planted at the end of May.  This coming fall, third-grade students will be planting bulb gardens outside each of the windows of their classrooms, and in the spring they will be able to see tulips, crocuses and daffodils.
The projects came to fruition through a large variety of community volunteers, collaboration and donations.