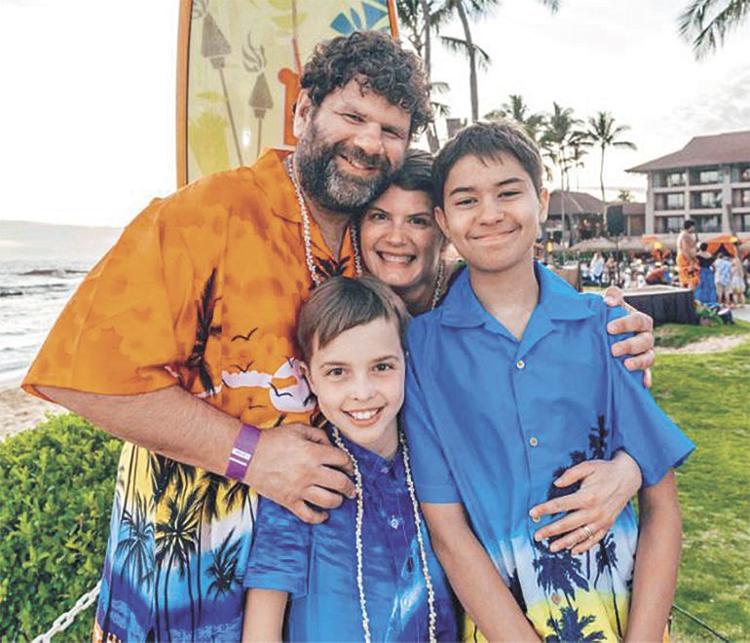 Jacobson family regularly offer gratitude to the birth parents of their adopted sons
Tell us about yourself and your family: We are a family of four. My wife and I moved here in 2002. Lora has been a kindergarten teacher for 20 years.  Jonah was born in June 2006 in the Cities (St. Louis Park). He is involved with theater, cross-country running and cross-country skiing. He enjoys LEGO and video games. Lucas was born in March 2010 in Princeton. He is into football and basketball, and his current obsession is Fortnight. I work for a book publishing company called AdventureKEEN. I also write children's books on the side and co-own a small book publishing company, Lake 7 Creative. 
What led you to adopt?: Adoption wasn't something we planned on. We were going to go the more traditional route, but infertility happened. It's an understatement to say that infertility is a horrible thing to go through. The best I can tell you is that it's like mourning a death in the family that no one else recognizes or understands is happening. And instead of time healing this wound, time just makes it worse. Fortunately for us, the decision to turn to adoption was an easy one because Lora had a serious and dangerous reaction to the fertility treatments. From there, it was a year-long journey with a lot of paperwork and a lot of fundraising. That's actually how I got into the publishing business. I self-published my first book as an adoption fundraiser. It worked pretty well because I'm still in the publishing business, if only as a side gig. Adoption turned out to be the perfect blessing. We wouldn't trade our journey for anything because it led us to our two wonderful boys.
How did you know you wanted to be a dad?: It was never a conscious choice, really. It was just part of the plan. I guess Lora and I did struggle with the "when" a bit ... We were the first in our group of friends to decide it was time to have children about three years after our wedding. But we were excited. We couldn't wait to grow our family and experience the joys of sharing our lives with our children.
What was it like when you met your child for the first time?: The journey was so difficult and so filled with heartbreak: first, the long infertility road and then a birthmother changed her mind on us before the baby was born. To finally meet Jonah was to actually see a prayer answered. It was overwhelming. It was the best moment of our lives. We were late to the hospital; we were supposed to be there when he was born. But we had been in Wisconsin Dells, and Jonah decided to come early. We met him about 15 minutes after he was born. He's been with us ever since. We were blessed to experience all of these emotions again when Lucas was born, with an added layer of joy because we also got to experience it from Jonah's perspective. Lora was able to be in the delivery room when Lucas was born, and she will never forget it.
What were your fears or worries about adopting a child?: Of course, we shared the fears and worries that all parents feel. Am I good enough? Can I handle this? Will I do it all wrong? Will I ever go to a movie again? From the adoption side of things, I only remember one all-consuming worry: what if the birth parents change their mind? It happened to us with what would've been our first child. A birth mother chose us and then changed her mind a week or two later. It was devastating, to say the least ...
We still do have great relationships with three of the four birth parents. Jonah and Lucas know them well.
Tell us about adoption day: There isn't much to say about the "official" adoption day. We got dressed up and went to court. We answered a few questions for the judge, took a photo with the judge, and went to Dairy Queen. I do remember one of the judge's told us how much he enjoyed adoptions. That date has become our annual adoption day for each boy. We treat those like a mini-birthday. Jonah's is in November, and Lucas's is in December. They get a gift, and we have a special meal and a special treat, often with other family members joining us. 
What do you believe it means to be a father?: How to describe it? It's an incredible blessing. And, truly, it's an honor. To be an adoptive father, it's an honor. The birth parents of our two boys chose Lora and me. They gave us the most precious gift anyone could ever receive. I'm honored, and I want to be worthy of that. I try to live up to that to be a good dad to Jonah and Lucas. I tell them at the beginning of every school year, "Be confident. Be kind." I try to reinforce that as much as I can. I mean, I fail often, but I keep trying.
How will you be celebrating Father's Day this year?: I'm not sure. I've never been big on the day. We will probably get some takeout, play a board game and/or watch a movie. 
Is there anything else we didn't address that you wanted to mention?: We were lucky in our adoptions because both birth parents were involved in meeting and choosing us, both times. So at our house, we try to remember and celebrate the birth parents too. Without them, we wouldn't be here together. We will love them forever and can never express enough gratitude for helping us become a family.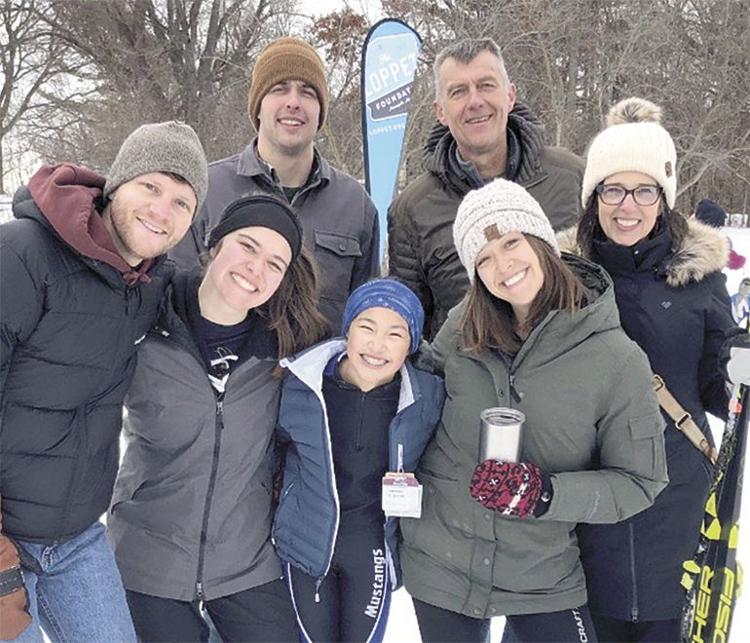 Anderson family works to honor their adoptive daughter's Asian ethnicity
Tell us about yourself and your family: Debbie and I will be celebrating our 29th wedding anniversary this month. We both grew up in Mora and have enjoyed working in this community and raising our children (Emily, Max, Kennadie and Tayah) here. We feel so fortunate to have had friends, family, teachers, coaches and so many others build into our kids. I know it's a cliche, but it really does take a village to raise them.
What led you to adopt?: Adoption really wasn't on our radar. We were busy raising our three biological children, and had sold all the "baby things." It was Debbie who had a sense that we were being led to adopt. While I was "open" to this idea, it didn't make a lot of sense that it would be something we would undertake at that point in our lives. Our kids were getting older, we were getting older, we needed to start saving for retirement .... the list went on and on. We prayed about this decision for nine months.
How did you know you wanted to be a dad?: I really never thought about not being a dad, I guess.
You also have biological children. How is raising your adopted child different from raising your biological children?: Other than the path of how each child entered our family, there are not many differences. From the moment the orphanage worker placed 12 month old Tayah in our arms, we had all the same emotions and feelings for her. We have raised her pretty much the same as our other children. A few ways parenting Tayah are unique is that we, as her parents, want to honor her Asian ethnicity, wanting to honor the extreme sacrifice her biological parents made, and want her to be able to embrace the beautiful Asian girl she is as she grows up in a predominantly white community.
What were your fears or worries about adopting a child?: Admittedly there were the initial apprehensions I touched on earlier. As we settled on adopting from China, we had many conversations about what life for Tayah would be like living in a small, mostly white community. We believe it is important to keep having these conversations between us as her parents, as well as with Tayah.
What kind of barriers did you face?: Once we were in the process, and extremely excited, the only challenge I felt that we faced was being patient. It was a much longer wait than we anticipated, close to three years. We were told the whole process would take about a year. It was an adjustment for our older kids as well, once Tayah came home. We had a "new" baby of the family who needed quite a bit of our attention.
Tell us about adoption day: Tayah was born in China and at that time children were adopted in groups. We traveled to China with several other families to adopt. Gotcha Day was pretty special as we all stood around a room in Nanning China and waited for the girls to be brought to us. Tayah was the first to be brought into the room and they handed her to us and at that point you could sense that our family was complete and the long wait was so worth every second. Tayah initially bonded with me and would not be happy if I laid her down or someone else wanted to hold her. She was just one year old at the time but would cry for her "baba" which is daddy in Mandarin. We knew that she was feeling the loss of her foster dad. There are so many emotions connected with that day including the best and the worst of life. It's also pretty special to have ongoing relationships with the other families that we traveled with and the girls that have that common beginning to life.
What do you believe it means to be a father?: There are so many roles involved in being a father ranging from protector and provider to teacher and cheerleader. I think the biggest and best part is something that cannot even be put into words but I'll try. Unconditional love. If you're not a parent you just will not fully understand that. I know I didn't until I experienced it.
How will you be celebrating fathers day this year?: I will be celebrating with my family.
Is there anything else we didn't address that you wanted to mention?: I'd like to share a quote by Jody Landers: "A child born to another woman/man calls me mom/dad. The depth of the tragedy and the magnitude of the privilege are not lost on me."