The percent of the population living below the poverty level has decreased among all of the PICKM counties (Pine, Isanti, Chisago, Kanabec and Mille Lacs) according to data from the United States Census Bureau.
Between the Census Bureau's American Community Survey's 2008-2012 5-year estimates and the 2013-2017 estimates, the PICKM counties did more than show reductions in poverty. If all 87 Minnesota counties were ranked based on the percentage of their populations in poverty, PICKM counties moved closer to the top.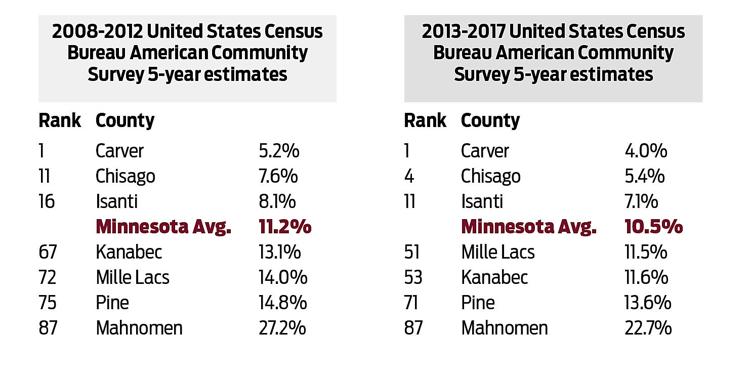 "Partnering to End Poverty" is the slogan of Lakes and Pines CAC, Inc., a 501(c)3 organization that serves the seven-county area of Aitkin, Carlton, Chisago, Isanti, Kanabec, Mille Lacs and Pine. It does so through a variety of programs including:
Energy Assistance Programs

Emergency Housing Assistance

Home Improvement Programs

Transportation Programs

Head Start

Financial Literacy

SNAP/Food Support Assistance

Senior Services
Community Action Agencies like Lakes and Pines began forming in 1964 as part of former President Lyndon B. Johnson's "war on poverty."
As for how the war is progressing, Lakes and Pines Executive Director Bob Benes said, "There aren't a lot of big, glorious victories, but there are many small battles that are won, and each one of those deserves to be celebrated ... Every day we win enough battles to keep going."
Ironically, as poverty rates decline, the number of clients seeking assistance through Lakes and Pines Community Action Council increases, according to Benes.
Benes explained this is because as fewer families meet poverty level guidelines, they are no longer eligible for assistance programs they may have relied on. When they are no longer eligible, they turn to Lakes and Pines for help. 
"In general terms, does (fewer in poverty) mean this area is more prosperous? Yes, but the level of need is the same. The number in need is less," Benes said. 
For example, Benes said economic prosperity in the area may help some, but doesn't help those on a fixed income like some senior citizens. 
Lakes and Pines serves approximately 13,000 people per year, and approximately 60% of them are seniors.

While poverty rates may be down, Benes posed that it is the best time to support those who are still struggling. 
 "If it's true that our area is more prosperous, what can we do now that we couldn't do before to help those that need it?" he said. 
Benes stressed that "a rising tide lifts all boats" that is, the prosperity of an individual has positive effects on the entire neighborhood. 
Despite the current strong economy, increase in new homes built and low unemployment rate, there are still individuals with great need that go largely unseen. 
For example, Benes described homeless people living in rural areas, but they don't look like what people typically pictures as "homeless" -such as panhandlers on city corners or sleeping on benches. Instead, rural homeless hide in plain sight, perhaps couch hopping between friends and relatives, staying at campgrounds or living in a fish house. Lakes and Pines serves approximately 30-80 homeless people per county annually. 
"I would consider someone living in a fish house to be homeless. They may be sheltered, but not housed," said Benes. 
Services offered by Lakes and Pines are government funded and therefore subject to political will and swings. Last summer, Lakes and Pines lost funding for one of its most well-used and successful programs: the Groceries to Go food delivery service. 
Benes encouraged concerned persons to be attentive voters. 
"If you don't want homelessness in your community, you need to think about who you are voting for."