Sometimes the universe has a way of guiding people to the right job, the right community at the right time. That's how 83 year old Dennis Schulz ended up spending 60 years on Union St. 
Schulz and his wife, Janice, came to Minnesota in 1959, as transplants from Iowa. About the time Schulz was finishing up barber college in Minneapolis, Mora barber Ron Stark called the college looking for an easy going family man to add a barber to his shop. Schulz fit the bill, and it wasn't long before Stark hired him for his shop in Mora called the Downtown Barber Shop. Schulz, fresh out barber school, moved to Mora, where he and Janice soon learned that Mora had everything they wanted in a community to raise their family.
Stark and Schulz became friends and partners in the Downtown Barber Shop, and their wives opened Jan and Marian's import business together as well. Back then there were four barbershops in Mora and eight barbers. The two men worked side by side and became best of friends. For six decades they cut hair, problem solved, listened and joked with one another and their many loyal customers. The men believed everyone who walked through the door of their shop was not only a customer but also a friend.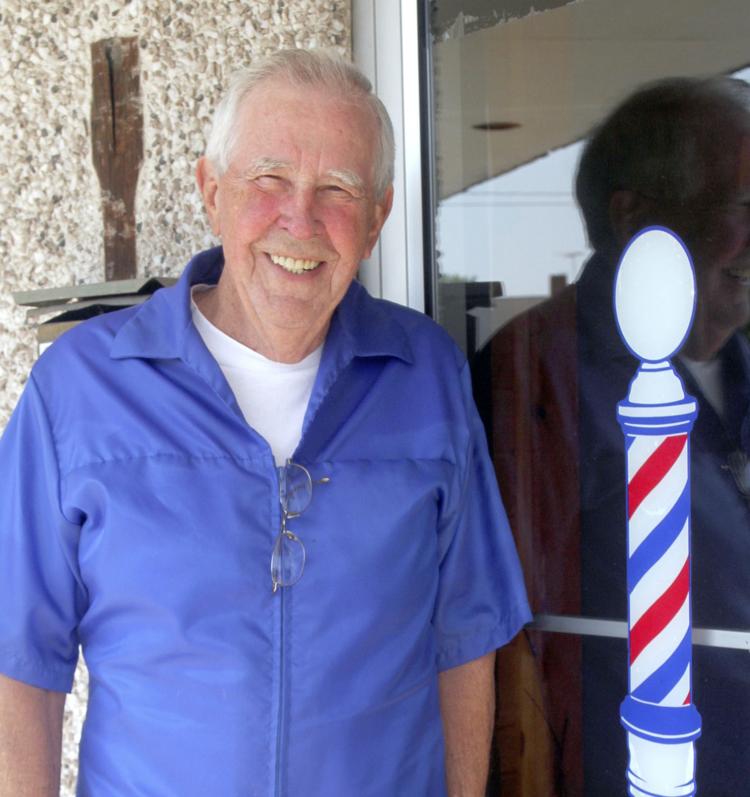 The Schulz's embraced life in Mora as their family grew to five. They raised two sons and a daughter who all graduated from Mora High School. Both of their sons retired before their father. Dennis sat on many boards including the Park Board, Credit Union Board, as well as being a County Commissioner, plus countless hours of volunteering and community service. Schulz is a Korean War veteran and still participates in parades with the color guard.
When asked about changes he's seen in the barber industry Schulz recalled, "The barber shop industry changed almost over night, with haircuts dropping by almost 50 percent when the Beatles hit the scene. That was a turning point."
He recalls being surprised the first time a woman came into the store and asked for a flattop. "Of course I obliged," he said, and she looked pretty good with it.  Asked if he ever cut his wife of 63 years and high school sweetheart, Janice's, hair, he smiled and said, "Once and only once, it was enough for both of us." 
This past January business as usual changed at the barber shop when 86 year old Ron Stark passed away. Losing his partner and friend played heavy in the decision that it was time for him to retire. Barber Eric Watrin has taken over as the owner of the Downtown Barbershop. Schulz's last day was July 31.
 Schulz said he looks forward to spending more time with his family, as well as hunting, fishing and golfing. He likes to stay active. And as for his wife Janice, "I love having him home more," she said.
Though he has now officially retired, his gift of gab and contagious smile have not. You can find Schulz holding court most mornings at the Crystal Bar and Grill just down the street from the barber shop. He'll be sitting at a table with his long time buddies and customers. Now, when talking about current events, what's happening in town or dishing out light hearted jabs and jokes, he's holding a cup of coffee in his hand instead of his scissors.