As Joslyn Solomon sits down to start her bench press competition, she gets in the zone. She is attempting to bench 140 pounds for the first time. She lays down on the bench and takes a deep breath. She knows her particular referee is prone to long pauses between reps which only adds to the difficulty of the task at hand. As she starts the press, she gets lost in the lights above her. She described it as something like an "out-of-body experience." She lifts the 140 pounds with ease.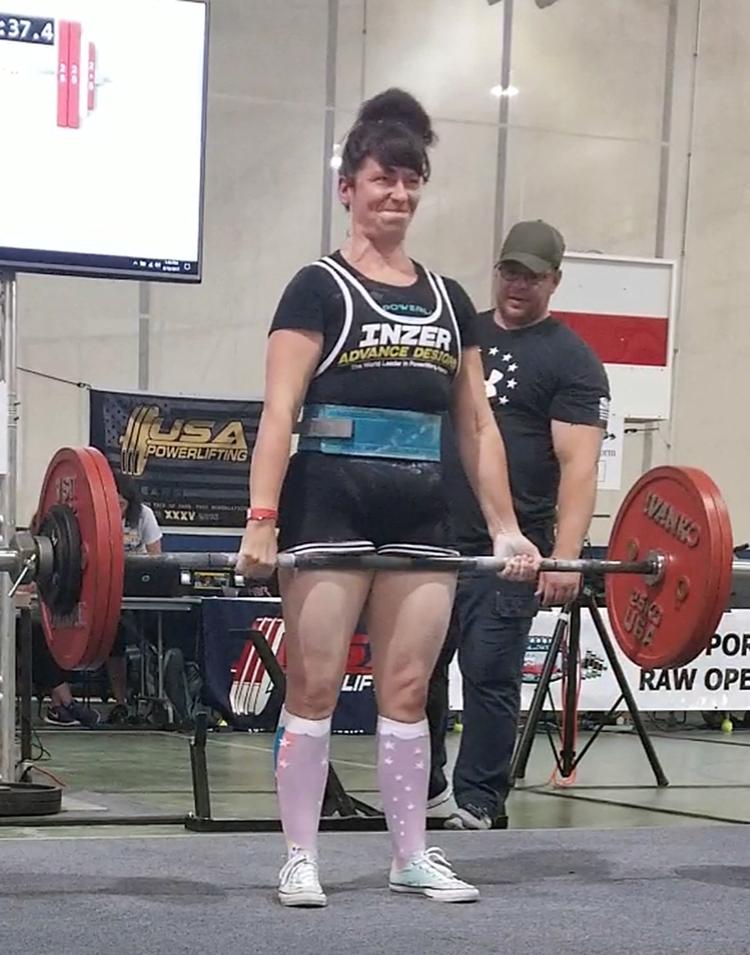 Joslyn, a Brook Park resident, is a competitive powerlifter who has placed second at the Women's State Championship in USA Powerlifting in Jan. 2017 as well as third at the Central Regional Championships in 2017. She also qualified for Nationals for the United States Strongman. She didn't go because she considered Strongman competitions to be her "off season" work.
She started powerlifting because she wanted to be healthy but hated running on the treadmill. "My husband finally convinced me to try lifting some weights," Joslyn on the treadmill. "My husband finally convinced me to try lifting some weights," Joslyn stated, "and I was hooked at the first deadlift." When she deadlifted 200 pounds for the first time, a trainer at Anytime Fitness told her, "That was strong, you should compete." She didn't think much of it until she did a bit more research on the USAPL. Joslyn competed in her first competition in May 2015 and has loved it ever since.
Oliver Solomon, Joslyn's 9-year -old son, also competes in powerlifting events. His favorite lift is the deadlift, just like his mom's. He said he wasn't a fan of bench press because, "I can't quite do a normal bar yet and I just don't like it." His workout routine includes stretching, rope climbing and hitting a tractor tire with a mallet." When asked who he looks up to most for powerlifting, Oliver said he looks up to, "My mom because she is taller than me. Just kidding, she is one of the main reasons that I started powerlifting in the first place. She inspires me to work harder, set harder goals, and when I do something wrong, to break it apart and keep going." On Aug. 8, 2017, Oliver set a youth bench pressing state record for his age group. He said this was one of his proudest accomplishments.
There are potential drawbacks for powerlifting youth. If a young athlete is to overwork their developing bodies, there is a risk of serious injury. According to the American Academy of Pediatricians, however, there is a higher likelihood of positive results than negative in youth powerlifting. When asked how this risk for injury affects the way Oliver trains, Joslyn said, "A lot of his training, much to his dismay, is body weight training. The last thing I want to see is long term damage." She believes powerlifting, if done properly, is a very good way to keep kids active and healthy.
According to Joslyn the best way to start powerlifting is to, "Jump in. It can be intimidating, but the powerlifting community itself is super welcoming and supportive." Finding opportunities for youth to powerlift locally is more of a challenge however. In order for kids to train, they need to commute to the Twin Cities in order to get the equipment and coaching they need. If you want to join the powerlifting community, Joslyn suggested you do some reading on the American Academy of Pediatricians.
Jordan Woods is a contributing writer for the Kanabec County Times.