Foxes, robots and penguins in queue for a night at the movies — the newly installed exterior mural at the Paradise Community Theatre in Mora is a combination of board-directed input and an individual's artistic license. 
The art piece was created by painter Adam Swanson who has been painting full-time for six years and began creating murals four years ago including projects in Two Harbors, Duluth and Chisholm.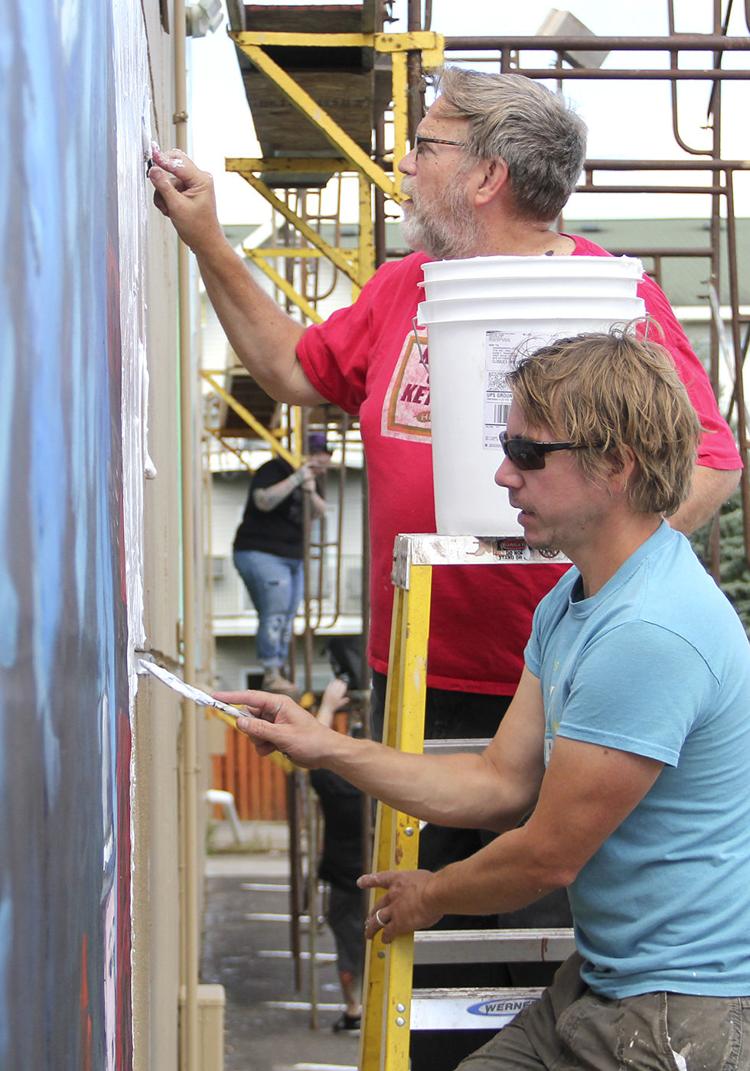 Creation of the mural was supported by a $15,000 Arts and Culture Heritage Fund Legacy Grant administrated by the East Central Regional Arts Council.
Paradise Theatre board member Carl Long was one of the board members who submitted for the grant. 
He said the board wanted an art piece that related to the Paradise community while embodying Swanson's unique style. Swanson created the art piece by first discussing the design with the Paradise Theatre Board of Directors.
Over the course of three months, Swanson refined the design and painted the mural on a grid of fabric panels in his indoor studio. 
Installation was a team effort as others helped Swanson smear a special paste on the wall before covering it with rolls of canvas — much like wallpapering. 
The material is expected to last approximately 50 years. Long said they intentionally chose to place the mural on the north side of the building so it wouldn't be pre-maturely damaged by southern sun.
The mural is divided into two sections, one long, high section with a strong Swanson-style feel melded into theater history. Inspiration of the people in line for the theater was drawn from a photo taken in December, 1947 on the theaters opening day. The small, low section of the mural has a stronger movie character theme. Long said the low section was meant to be more interactive for theater visitors, perhaps as a backdrop for photos or just something to view more closely.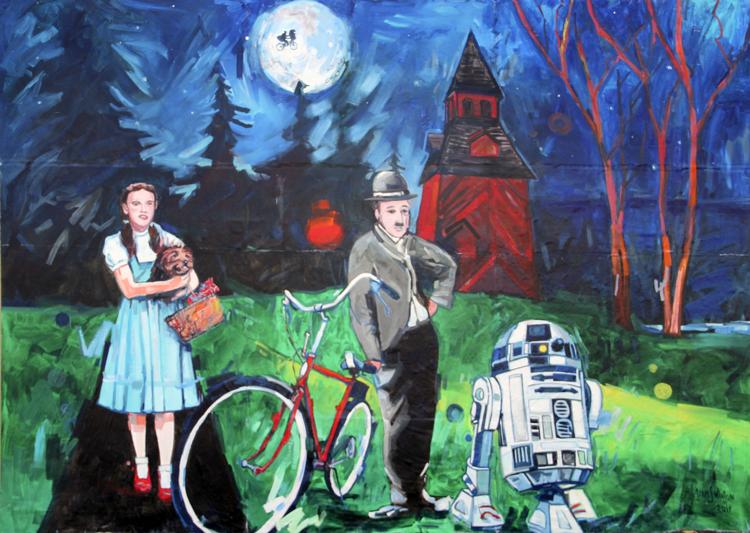 Swanson graduated from the University of Minnesota-Duluth in 2001 with a major in art. 
Much of his art is inspired by humanities connections with the natural world, further influenced by his travels in Antarctica with the National Science Foundation. 
"There is a deep relationship between art and science. Art asks questions, science seeks answers. The more we learn about our surroundings, where we came from and who we are, the more likely we will thrive in a universe of endless possibilities," Swanson writes in his website biography.