In the spring, when there are below freezing temperatures at night followed by above freezing temperatures during the day maple tree sap begins to flow. That is when maple syrup producers go to work to capture the sugar laden sap. They tap their trees and hang collection bags or buckets on their trees. Collection is followed by a long cooking process to boil off much of the water leaving sweet maple syrup to bottle and enjoy. 
One family that continues this maple syrup making tradition is the Gerdin family in Maple Ridge Township located on their family farm just south of the Kanabec County line in Isanti County southwest of Braham. They are continuing this tradition that was started by their father K. Vernon Gerdin back in 1952.  
"We used to tap a lot more trees before 1996. That was when a tornado destroyed a lot of our trees," said Vernon's son Chip Gerdin.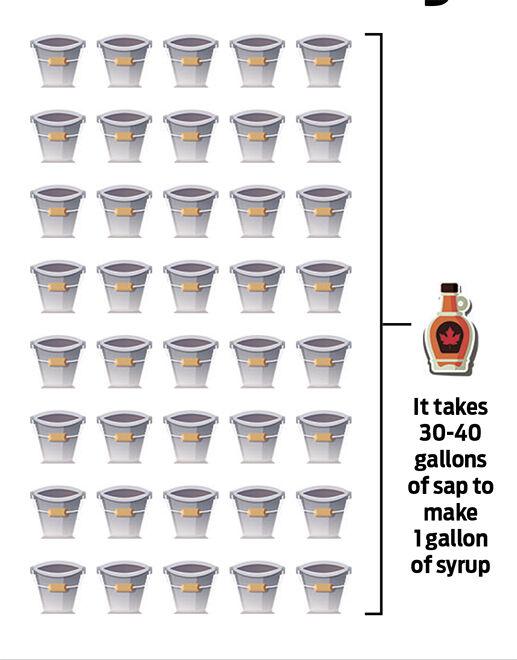 Last week the Gerdins had collected over 2000 gallons of sap from 400 taps and finished cooking out 50 gallons of syrup in their first week of making maple syrup.  "In 2020 we got 100 gallons of syrup in three weeks.  You don't know until the end of the season how much you are going to get. Once it warms up enough for the buds to come out and the ice is out of the lakes, it's done running," he added.   
Paul Kylander who farms east of Mora has also been making maple syrup for many years. He said that his maple trees started running a little early this year. He started collecting sap on March 3 this year while last year he started March 5. 
This year he has 700-800 taps in trees in four different sugar bush woodlots that have sugar, red and silver maple trees.  As of last weekend, he had collected over 3000 gallons of sap and produced 80 gallons of syrup. 
Another area maple syrup producer is Phil Bendickson who makes maple syrup northeast of Mora.  He said that last week he had collected some 2,800 gallons of sap from 300 taps.  He hauls sap from trees on his son's property near Braham in a 425 gallon tank on his trailer. He runs the sap through a reverse osmosis processing system to make syrup.
He said, "This year is about the same as past years.  It did start running earlier. It will run as long as it freezes and thaws and the trees don't bud out." 
The Gerdins collect the sap from three different sugar bush woodlots. After drilling a hole into a tree, they install a metal tap into the hole.  A blue plastic bag with a metal top is hung on each tap to collect the sap when it runs. They then collect the sap using a skid steer with a 300 gallon poly tank mounted on a pallet that rests on the forks of the skid steer. They drive the ski steer  through the sugar bush and pour the sap in the bags from the trees into a strainer on top of the tank.
The sap is hauled home to their farm and pumped into a bulk tank. When they get enough sap, they fire up their wood burning boiler evaporator. A batch of sap moves from the tank into the evaporator by continual gravity flow.  Gerdins burn about one cord of wood in the evaporator for each 20 gallons of syrup produced. After a few hours of evaporating most of the water off they end up with maple syrup. 
Cooking the sap into syrup takes several hours. Fortunately, it usually coincides with the state high school and NCAA tournaments. So, the Gerdins have a TV in their sugar house to be able to watch the tournament games while they keep an eye on their evaporator. 
Depending upon the sugar content, it takes 30 to 40 gallons of sap to produce one gallon of syrup.  For example, last weekend the sap from a silver maple that they sampled in their yard was at 2.9% sugar.  So, if all the trees were at that level it would take about 33 gallons of sap to produce one gallon of syrup. 
Kylander stores his sap in bulk tanks which is pumped into his evaporator system. This year he has a new steam-away 3 ft x 10 ft sap evaporator that he purchased from near Dubuque, Iowa. It processes 120 gallons of sap/hour in a continuous flow system. It compresses and filters the syrup. 
A unique feature is that the steam-away system creates one gallon of soft water from every  three gallons of sap. He stores the soft water in poly tanks and uses it for cleaning the system, his garden and other uses. 
He said that he has been doing this for 20 years.  Why does he spend many hours a day and sometimes from morning until night to cook syrup each spring? He said that he does it as a hobby and to produce syrup for his family, friends and to sell some.   
Chip Gerdin summed up why his family does maple syruping when he said, "It is a family tradition and nothing is better than fresh Swedish pancakes smothered with maple syrup and butter on them."