The Mora wrestling team had it's first competition since Dec. 21. They hosted a seven- team tournament on Saturday, Jan. 6.
Jan. 6 - Tournament at Mora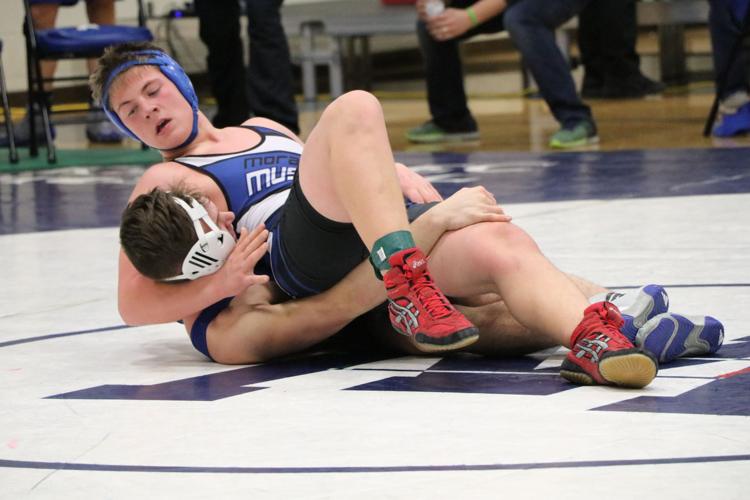 106: Avery Nelson-7 (1-1) placed 2nd.; Conner Gmahl-7 (10-10) placed 3rd
113: Trevor Thielen-9 (7-11) placed 5th
120: Cody Haggberg-9 (6-10) placed 3rd; Tommy Schroeder-9 (1-2) placed 5th.
126: Ryan Nosbush-11 (20-2) placed 1st
132: Parker Voss-10 (1-4) placed 5th; Nolan McGaw-7 (1-3) placed 6th.
138: Jordan Lindquist-12 (11-8) placed 5th
145: Austin Voss-10 (11-7) placed 3rd
152: Jon Smith-11 (17-7) placed 2nd
160: Dylan Nelson-9 (7-2) placed 3rd
170: Jake Nowling-11 (11-9) placed 4th
182: Draven Hammel-12 (3-4) placed 4th
195: Max Anderson-12 (10-8) placed 2nd
220: Collin McCarthy-10 (5-3) placed 2nd; Tanner Grangruth-9 (7-10) placed 3rd.
285: Jace Morneau-11 (1-8) placed 6th.
Brandon Udstuen-11 (5-3) placed 4th
Waconia proved to be too much for the Mustangs. The Mustangs came in a strong second place with every wrestler placing. Junior Ryan Nosbush came home with the only individual title. The story of the tournament was Mora's youth and talent was displayed.
The Mustangs had five wrestlers wrestle their first varsity tournaments. Sophomore Parker Voss competed in his first varsity tournament at 132 and placed fifth. Freshman Dylan Nelson placed third at 160. Freshman Tommy Schroeder placed fifth at 126. Seventh grader Avery Nelson made the finals, placing second. Finally seventh grader Nolan McGaw placed sixth at 132.
Avery Nelson, Tommy Schroeder, and Jace Morneau all earned their first career varsity win.