The Mora Mustangs baseball team weathered key injuries this season, leading to players taking on unfamiliar positions. With playoffs a week away, the team intends to capture a strong postseason spot.
"We're playing really hard, and our attitude is very good," said head coach Jayson Pautzke. "The postseason is a new season, and you never know what's going to happen. So we're going to go out there and keep working to win games."
After 16 games the Mustangs hold a 6-10 record, fifth place in both Section 7 AA and the Granite Ridge Conference. Last season the team finished second in 7 AA Subsection 1 and fifth in the GRC, and made a deep run in Section playoffs.
"We've suffered season-ending injuries to a couple of our starters," Pautzke said, "and it's set us back. Sophomore Ben Wright broke a finger. He was our only left-handed pitcher, was playing well in the outfield, and kept finding ways to get on base. Junior Kolton Brodal, another pitcher, also broke a finger early in the season."
"We have talented players, and we've had to plug them in at positions where they aren't the most comfortable. We've played 16 games and had eight outdoor practices. It's hard to develop skills at a new position without much practice time." 
Mora wraps up the regular season with home games against Moose Lake-Willow River and Zimmerman, and road games against Becker and Crosby-Ironton. The team defeated both Becker and Zimmerman earlier this season, and hasn't yet played the other two teams. "The good news is, all four of these are winnable games for us," Pautzke said. "We're staying positive, knowing that things will turn around and get better. We played very well against Esko on May 17, but had just one bad inning that worked against us."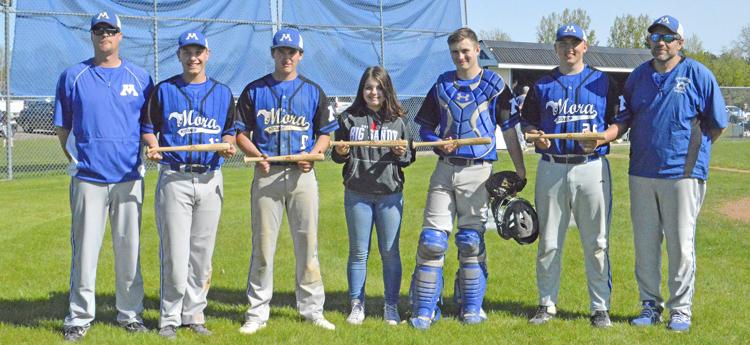 Section playoffs begin on Tuesday, May 28, and the state tournament starts on Thursday, June 13. "Duluth-Marshall is very strong in our section, but we and a handful of other teams could vie for a good playoff spot," said Pautzke. "Most teams will play three or four games this week like us, and all the teams are very close."
"Each team's strength of schedule figures into the rankings, and ours is as good as any team in the section. We're likely to end up anywhere from fourth to seventh place. Once we get past the first postseason game, we'll be able to breathe a little easier."