Skiers traveled from across the world to participate in the Vasaloppet USA's annual cross-country ski races the weekend of Feb. 8-9 in Mora. 
Over 1,070 skiers registered for Vasaloppet USA's Saturday races. This is an increase of approximately 250 over last year's registrations. 
Race organizers have attributed this increase to the fair weather and a consistent course year after year. This consistency is due in part to the addition of snow-making equipment and no longer relying on natural snow.
Out of sight, out of target
Matt Liebsch was once again the first male finisher of Vasa race (50k). This was Leibsch's 11th consecutive win of the Vasaloppet's longest race and the most consecutive race wins in Vasaloppet USA history. However, Liebsch's lead was a bit more narrow than usual. 
Skiers Brian Gregg and Garret Beckrich followed close behind Leibsch throughout the race. They took second and third place respectively; both finished approximately 1:37 after Liebsch, and just 0.3 seconds apart from each other. Looking over his shoulder, Liebsch made sure to stay just out of eyesight of his pursuers. 
"I was running away. I was out in front a little bit and skiing a little scared the whole time ... I was just trying to stay far enough away so they wouldn't see me or give them a target, but I kept looking back and I could see them in the woods," said Liebsch. 
As always, Liebsch had nothing but praise for the Vasaloppet USA course.
"It was one of the best years ever."
Caitlin Gregg decided she needed to ski the Vasaloppet to see what all the fuss was about. Gregg said she has skied the Vassaloppet before, but it had been a while. 
"Everyone raves it's the best race ever, so I had to come experience it again," she said. 
Gregg is an accomplished skier having competed in the 2010 Winter Olympics, and set a course record in the American Birkebeiner. 
This was Gregg's first official ski race since the birth of her child a year ago. Gregg was the first female finisher in the Vasa race (50k) with a time of 2:11:37.0 —a full four minutes ahead of the second female finisher, Claire Trujillo; third was Jan Guenther.
As more skiers keep Vasaloppet USA on their racing calendar, Mora volunteers are making sure they put their best efforts forward to showcase Mora's hospitality. 
It takes many volunteers to put the race together from managing road crossings, farming snow, organizing information and packet distribution, managing signage and much, much more. 
Perhaps the most visual volunteers are the ones every skier passes by at soup stops.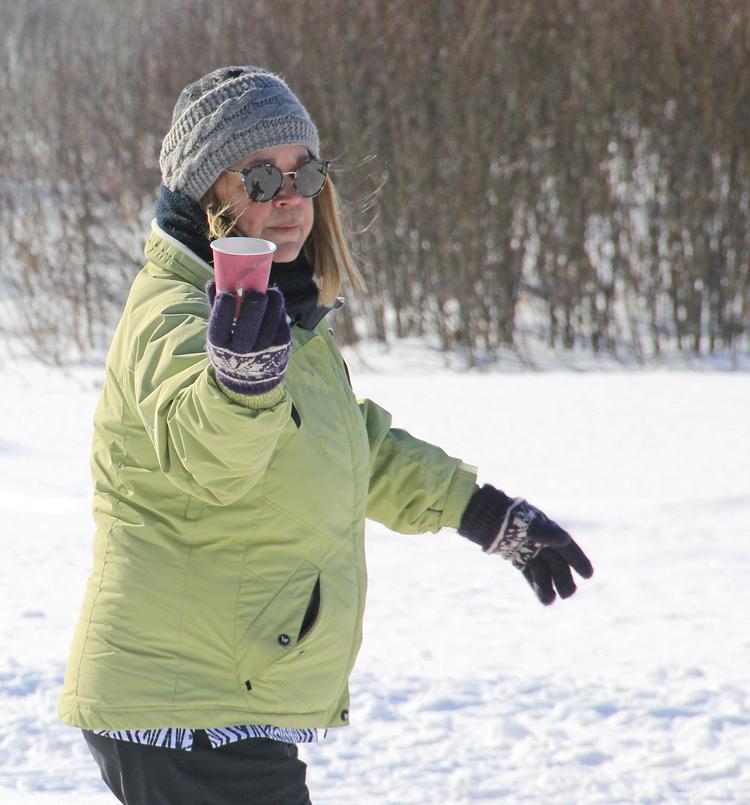 At soup stops along the course, volunteers serve warmed drinks, offer fresh fruit and blueberry soup to help energize passing skiers. 
Penny Casavant and her family have been volunteering at Vasaloppet USA soup stops for about 25 years. 
On Saturday, she, her husband Doyle Casavant, her grown daughter Kayla Kemp and son-in-law Tyler Kemp volunteered during Saturday's races with no shortage of smiles. 
"Look at this day," said Penny. "The sun is out. People are happy. You can get out in the fresh air and the skiers are always so grateful ... It just makes you feel good. It's a little way of giving back and supporting the community."
The crew said they felt it was important to do their part in supporting the event and their city. 
Penny said the Vasaloppet "brings people to Mora who might not come to Mora for any other reason. I want to make sure we represent ourselves well."
Kayla felt the event was a healthy for the community and encouraged people to enjoy the outdoors. Still, putting the event together "takes the whole community." 
Tyler married into volunteering during the Vasaloppet, but he couldn't complain. Besides a chance to enjoy the outdoors, through volunteering he was able to taste blueberry soup for the first time.