If it wasn't for Minnesota Governor Tim Walz's imposed pause on all organized youth sports until Dec. 19, this Monday would have seen thousands of teenage girls hitting the hardwood as gyms get filled with the rhythmic sounds of dribbling balls and swooshing nets. 
In 2020, this scene is common-place, however 50 years ago, it was more of an anomaly, to the point of being viewed as something of a sideshow attraction. But while those attitudes would be considered extremely sexist based on today's standards, back then, it afforded one Braham graduate opportunities of a lifetime.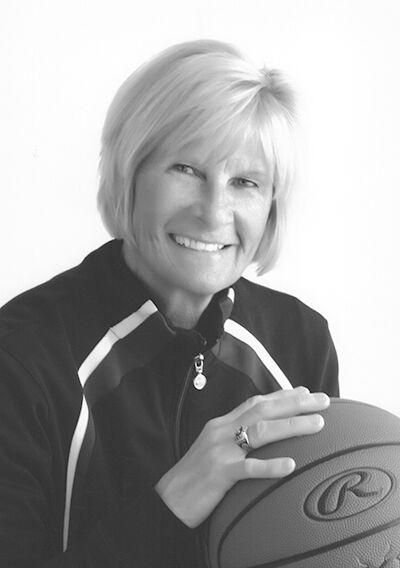 Growing up on her parents Dave and Bev Mattson's farm just east of Braham, Sherri Mattson has fond memories of life there. They used an area close to their home for a softball field which, during the summer, cousins and neighbors would come on bikes and even horses to play. While they played many sports, ironically basketball wasn't one of them. She credits her parents, who still live in the area, for their "support and encouragement to play sports at a time when it was not the norm for girls."
Sherri graduated from Braham High School in 1971 where she was a stand out basketball player. That was followed by more basketball in college, playing on a women's professional team, coaching and teaching the sport at a wide variety of levels. 
Braham actually briefly had a girls' basketball team during the mid 1920's for about four years before it was discontinued. According to "Braham's 100 year Anniversary" book under "Girls' High School Sports," girls' basketball started in the fall of 1924. They played in the old "Cracker Box" gym on a floor that was divided in three sections with two players from each team in each part. Gradually, the rules changed until 1929 - the last year of the program's initial existence, they played by the boys rules.
Girls basketball in Braham returned in the fall of 1969. Sherri, then a junior, and all the girls playing were introduced to the game. Sherri describes the girls playing half court (in the new gym) with the team each having two guards, two forwards on each end and two rovers who played full court. 
This was not an official sport in Braham at that time. The boys teams received funding in the school budget, but there was no funding for girls' sports. The coach was a volunteer and travel to away games was provided by school personnel driving school station wagons with parents and other teachers driving their personal vehicles to get the players to and from the games. The team, with family help, made their own uniforms; yellow t-shirts with numbers ironed on with tape. Since it was not officially a school team it was known as the Bomberettes. Girls track, gymnastics and volleyball also started that same year. Sherri participated in basketball, track and volleyball.
The girls' coach was Ann Koller. Sherri describes her as having just graduated from college and "who brought a strong background in physical education and sports background to the school district and, with the support of Athletic Director Leonard Froyen and Principal Jack Peterson, the foundation for girls athletics was set and continues to excel in the Braham Schools." In addition to basketball, Koller coached all the girls' sports, all unpaid. That year the team played four games in the Rum River Conference, losing only one. Sherri enjoyed playing the half court forward position and shooting the basketball. She has good memories of the support from the town of Braham and, in particular, Jim and Phyllis Longdren, who attended all games and wrote articles and took pictures for the newspaper. Ann Koller describes that first year as starting with basics, as none of the girls had ever played team sports. Practices involved a lot of team building and working on basics such as learning what a jump shot was. "Sherri worked very hard to learn the basics so she became quite good." Ann described the team as "a joy to work with."
Sherri's senior year, the school district provided funds for uniforms which were shared by all girls sports. That year they played six games and lost one game, an overtime game with Sauk Rapids. In June 1972, a year after Sherri graduated, Title IV was passed by the Minnesota Legislature mandating schools to fund girls' sports which allowed them sports participation equal to boys.
Making the jump to college and pros
The sports competition at Braham as well as the many role models, inspired Sherri to attend the University of Minnesota, Duluth to pursue a degree in physical education and coaching. While there she played basketball all four years and field hockey and softball one year. She also did some officiating (volleyball and basketball) which she says reinforced her decision of coaching and not officiating.
Shortly before graduating from UMD, Sherri began checking the Physical Education Majors department bulletin board for physical education/coaching jobs. "It was at that bulletin board that changed my life." There was an announcement for a women's professional basketball league (NGBL). This intrigued her -"playing basketball and getting paid for it. What could be better?"
She completed an application and received a response that league was not going to be. Then another letter arrived from Mr Orwell Moore, owner of the All American Red Heads. He invited Sherri and her roommate Gretchen Pinz to come to Holly Springs, Mississippi for training camp. The two of them packed their bags in October and had a road trip to Mississippi in Gretchen's parents' mini motor home. With assistance from CB radio and friendly truckers, they arrived at camp. After locating their cabin they were directed to head to the basketball court - outside in 95° heat and humidity. They adjusted to the heat and practiced three times a day.
The first evening there they were introduced to Clairol Flame 33s and became actual red heads. After three weeks of practice they were divided into three teams. Sherri's team consisted of seven players. She was one of four rookies. They traveled by limo, which one of the veteran players drove and became their roadside mechanic due to the limo's tendency to go through quite a few wheel bearings. One player was also the coach, team comedian and business manager.
Living on a farm in a rural area, Sherri had done little traveling and enjoyed seeing places from Florida to very rural Alaska. She described a highlight of returning to Braham and the UMD where their team played against former teachers and coaches with family and friends in the stands. The Red Heads won both games. An article in the Hastings Gazette described, "Each of the Red Heads had trademark trick shots. Sherri's were a knee shot and a head shot, where she would bounce the ball off the specified body part and into the basket." The games were charity games against men's teams, similar to the Harlem Globetrotters.
Her first year with the Red Heads they traveled 40,300 miles and played 134 games, winning 129 and losing 5. The second year she was assigned to a veteran team and it proved to be another great adventure. They traveled 54,855 miles, played 171 games, winning 156. That year they had a 20 day trip to Alaska and played in 12 cities including the Eielson Air Force Base. They traveled by ferry, bus, commercial airplane and goose plane.
Entering the coaching ranks
After those two years Sherri began her coaching career. In 1979-1980 she was at Inver Hills Community College where their team was the 1980 Conference Champs, the Minnesota State Champions and Region Runner-up. Sherri received coach of the year honors. 
Next came Division III Macalester College from 1980-1985. She recruited and coached practices and games. From 1985-1986 Sherri was assistant basketball coach at the U of M again recruiting. 1986- 1987 brought Sherri to Bemidji State University to teach and coach the basketball team to a 25-3 record which earned the team a trip to the NAIA National Tournament Championship. 
They were conference champions and she won another Coach of the Year award. Sherri was referred by contacts to the next position which provided her with additional learning experiences. Those positions also solidified her need to choose something else as she did not enjoy the recruiting that went with coaching.
In 1989 Sherri returned to the U of M to pursue a Master's Degree in Education with emphasis in adaptive physical education. A requirement for one of the classes was to attend an adapted athletes event. She chose Hastings High School. 
"When I arrived at the game, I sat down next to a fan and began asking questions about the Hastings team and general rules of the game. That fan turned out to be the athletic director at Hastings." He informed her there was going to be an opening for an adapted physical education teacher. He also suggested she sign up to substitute teach in Hastings so school personnel got to know her. Following that advice, she got the job. Sherri said, 
"I taught elementary, middle school and high school age students with special needs for 30 years, some of the most rewarding years of my career," she said.
According to an article in an 1989 in the Hastings Gazette, Sherri was frequently asked "What are you doing here?" referring to her success as a coach. Her answer was that while she interned at Hastings, she found teaching the school district's disabled students to be "satisfying and rewarding, showing them what they can do instead of telling them what they can't do."
Sherri credits much of her success to being in the right place at the right time. Braham began allowing girls' sports while she was there. She saw the notice for a women's basketball team - at the right time while at UMD. Many of her coaching positions were contacts where one led to the other. Finding herself sitting next to the Hastings athletic director while following a class requirement was again great timing. 
Her long and glorious career resulted in being named to six Halls of Fame, with three being individual and three being as part of a team. The three individual honors are from the University of Minnesota, Duluth in 1997, Bemidji State University in 2010, and Braham in 2013. The remaining three were awarded to the team of The All American Red Heads basketball team. Those awards were from the Womens Basketball Hall of Fame (Knoxville) in 2011; Naismith Basketball Hall of Fame in 2012 and the Arkansas Sports Hall of Fame in 2020.
Sherri said, "I am very humbled and honored to be included in the Halls of Fame. Each has special meaning, but the Braham Hall of Fame is most dear to my heart. Braham is where it all started with sports being offered to girls."