Three recent Mora High School graduates spent this summer fighting wildfires—a challenging, yet rewarding experience they are not likely to forget—all at the encouragement of their high school ski coach, Chip Gerdin. 
Gerdin lives in Jackson, Wyoming, for eight months of the year then travels to spend the winter at his family farm in Stanchfield. While in Minnesota, he coaches Mora skiers and makes maple syrup when the sap flows.
As a young man, Gerdin worked helping family and neighbors do controlled burns of the farm fields. He realized that many of his farming skills transferred to managing fires, like running a chainsaw and having a basic mechanical aptitude. 
In 1997, Gerdin started his career with the United States Forest Service supervising an engine crew in Jackson to fight wildfires. Engine crews work with specialized fire engines to maintain the perimeter of both prescribed fires and wildfires.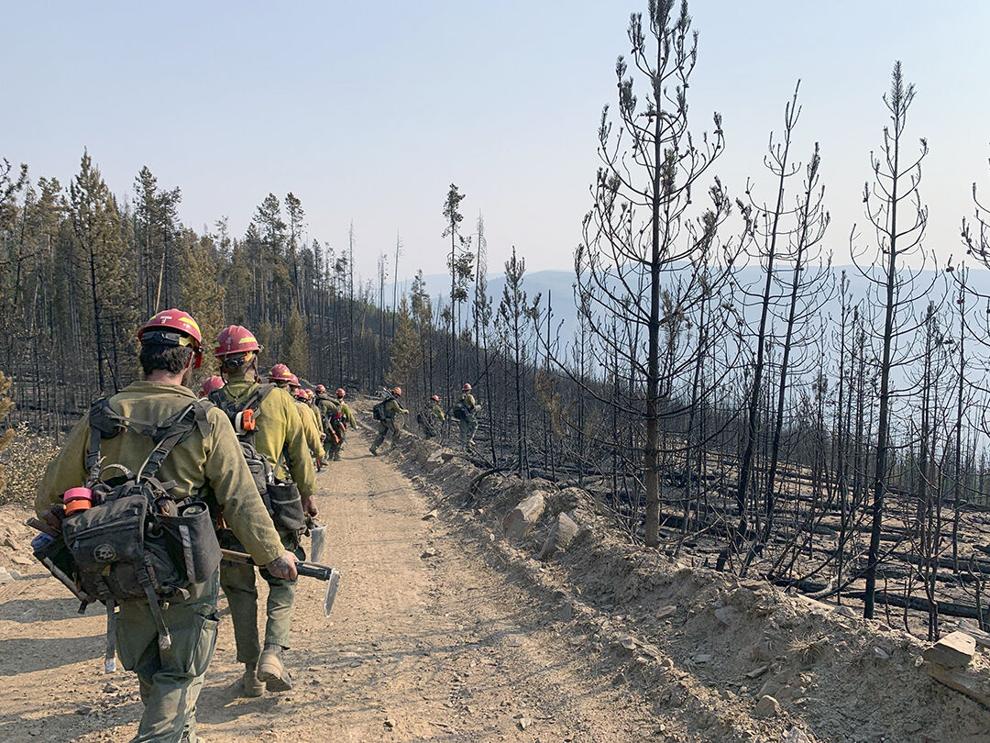 Crews are comprised of two-10 people who work to spray water and foam to control fires. They, and other crews called "handcrews," may also use hand tools like shovels and chainsaws to clear flammable materials thus removing fuel that wildfires need to spread. This creates a "fireline" that looks a lot like a trail.
Gerdin retired from full-time work in the summer of 2020, but still works as a casual worker when he is available. 
Gerdin is always looking for good candidates for his engine crew. 
"I recruit kids from here and other schools all the time," he said. "It's a great summer job for college kids. It's hard labor in tough conditions, but it's really rewarding when it's done."
Three recent recruits came from the Mora Nordic ski team: John Schwinghamer (class of 2017), his younger sister Johanna Schwinghamer (class of 2020) and Tom Woolhouse (class of 2016). 
All three are currently in college, and after much persistence from their former coach, decided to join summer engine crews with the U.S. Forest Service. All three underwent special training. Johanna was stationed with a crew in Aston, Wyoming, while John and Woolhouse joined Gerdin's crew in Jackson. 
For John Schwinghamer, this was his second summer on the crew. John started his final year at the College of St. Scholastica this fall working on a major in chemistry. He intends to take a gap year before going to medical school. 
John admitted that when he first started, he wasn't sure what to expect, but found the fire suppression tactics and resources used were more complex than he had imagined. 
The most memorable experience for him was watching the crews work together as a team. He particularly enjoyed being able to work side-by-side with Woolhouse, his long-time high school friend. 
"Overall, it was a great experience for me. The guys there do really great work," he said. "They work hard and it was fun to be a part of it."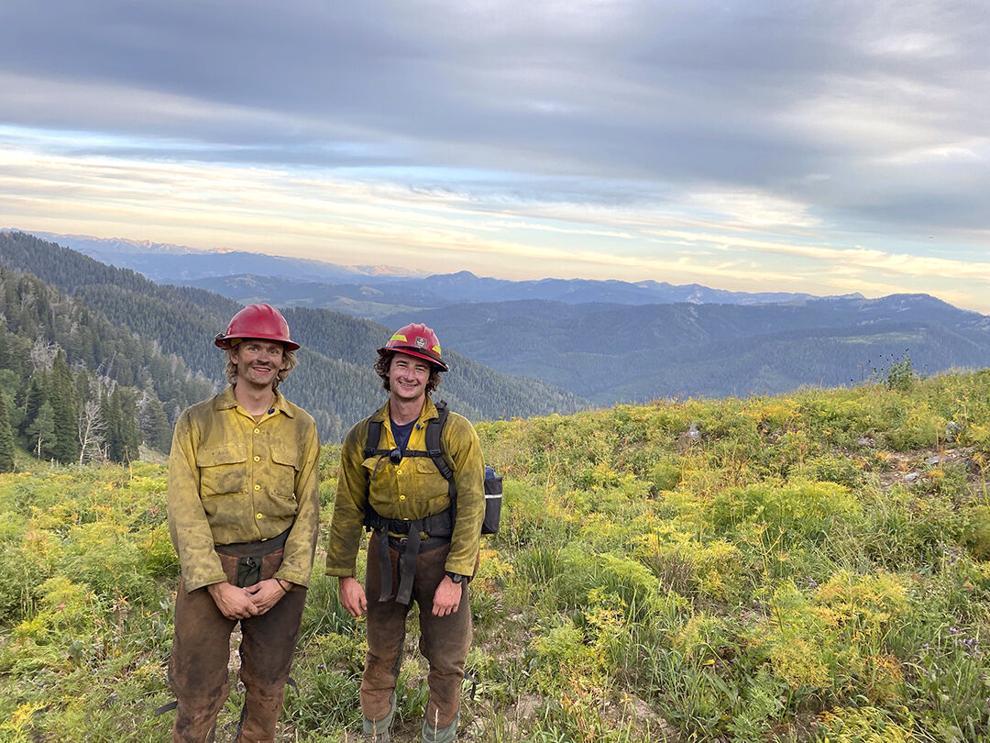 Tom Woolhouse had just graduated from the University of Wisconsin-Green Bay this May with a degree in mechanical engineering. "I was just chilling out in Green Bay, didn't have a job lined up or anything." That's when Gerdin called with an opportunity.
"I figured I've got nothing better to do this summer and I don't want to sit at a desk yet," Woolhouse said. He took the opportunity and was flying out to Jackson within a week. 
During his experience, he was able to take his first flight in helicopter and responded to a number of fires in the Bridget Teton National Forest. 
"There can be long days that are slow ... There can be days when you are running like a chicken with your head cut off for 16 hours just working fireline. It's hot and you're sweaty and you're tired. You get back to camp and fall right asleep just to get up and do it all again the next day." 
Overall, Woolhouse said the experience was meaningful.
"You feel like you are making a direct impact," he said. "It really was rewarding."
His advice for others considering the experience: "Just do it."
Johanna Schwinghamer is in her second year at Montana State University in Bozeman. 
When Gerdin first asked Johanna to join a fire crew, she had never run a chainsaw before. This was a little worrisome. In fact, Johanna was worried about a number of things. 
"Before I started I was really worried I wouldn't be physically fit enough for the job. But I was perfectly fine. It is difficult. It's not just a walk in the park, but they do a really good job ... of making sure you are safe."
Others worked hard to support Johanna as she was starting out. Before traveling to Jackson, Gerdin taught her how to use a chainsaw by practicing cutting down trees on his property. 
"Chip is a very good teacher. He is incredibly patient. It ended up being less scary than I expected it to be," she said. 
Johanna was also comforted by the training she underwent, and knowing that she always had the option to decline responding to a situation or task she didn't feel safe doing. 
Johanna particularly appreciated the support of her parents, who she said have always encouraged her to seek out a wide variety of experiences, including those that took her out of her comfort zone. 
Unlike John and Woolhouse, Johanna was stationed in a smaller town, with a more inexperienced crew. While she spent approximately four weeks responding to wildfires, a lot of the work she did over the summer involved smaller forest maintenance projects. 
"It's a really great experience," she said.
"It's really fun to be able to see different parts of the country, and meet people you wouldn't have the opportunity to otherwise."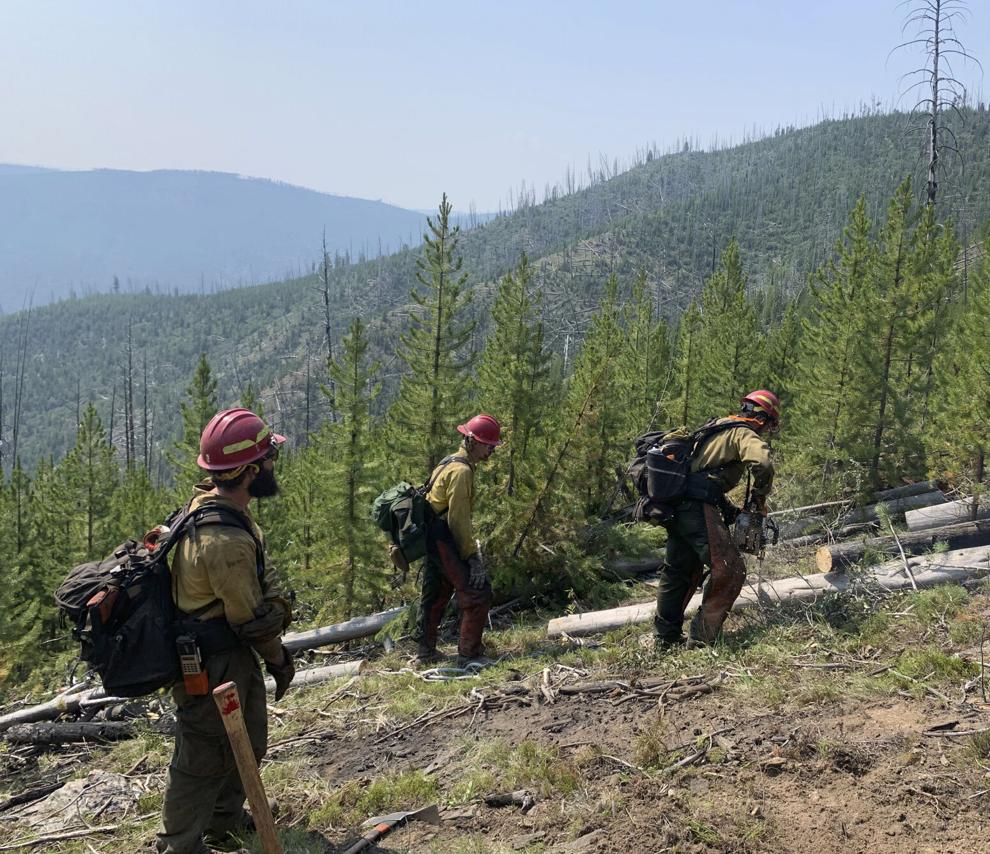 Gerdin said the job of fighting wildfires can be difficult, and each fire brings it's own challenges, some physical, others mental. 
The fires always bring destruction. Some people lose homes or cabins, but Gerdin said as a firefighter, it's key not to dwell on it. 
"You look at what you save and not what you lose," he said. "You do the most you can with the finite time you have and that's all you can do."
To be a firefighter, Gerdin said you have to like challenges and enjoy working as a team. The rewards of doing so are great.